Junior Fair Sale Information
Frequenty Asked Questions
Why should you be a Buyer at the Delaware County Junior Fair Sales?
By bidding and buying at the sales, you are helping to support the positive activities of the youth of the Delaware County community. By having projects that are sold at the sales, youth learn time management, responsibility, and how to provide a quality food product for consumers. Participation in the sales also supports Delaware County's agricultural economy, both present and future.

As a buyer, you are generating exposure for your business or organization through the display of your logo during the sale, signage in the barns during the fair, and in the thank you ads.
Do I need to take an animal or project home?
No, the Delaware County Junior Fair Sales are premium bid sales. Your bid/purchase is the premium the exhibitor receives over the stated market price. However, if you want the meat from the animal you can purchase it by paying market price and processing.
What will it cost me to have the winning bid?
Of course, the grand champion and reserve champions animals usually sell for more but the typical animals ranged from $550 to $900 for goats, $200 to $700 for rabbits, $325 to $2,000 for poultry, $2,000 to $4,000 for steers, $600 to $900 for Feeders, $700 to $1,800 for pigs, $700 to $2,100 for lambs, and $300 to$500 for baked goods in 2022. But it is hoped that prices increase each year.
What about the baked goods?
They are also premium bids. However, you do receive the item at no additional charge. Baked Goods ranged between $300 and $500 in 2022. They, like the grand champion and reserve champion animals, include a picture of the buyer and exhibitor that will be used for publicity purposes.
 Call 740-833- 2034 with your name, address, email address, and phone number.  In early September, you will receive a Bidders' packet. It will include passes for the fair along with other sale information. It will also include information about the complimentary Bidders' Dinner held prior to the sales starting at 5:00 pm. These dinners include samples of the products that will be auctioned off that evening.
What are the dates for this year's Sales?
The 2023 sales are on Tuesday, September 19 and Wednesday, September 20 starting at 6:00 pm. The order of the sale on Tuesday will be Dairy Products, Rabbits, Poultry, Beef, and Baked Goods. Wednesday is Lambs, Pigs, and Goats.
What if I want to support the sales but I can't attend or I don't have financial resources to purchase an animal?
Consider joining the Delaware County Junior Fair Buyers Club. It is a pool of dollars from individuals, organizations, and businesses that believe in the importance of the sales. An application is available on this website.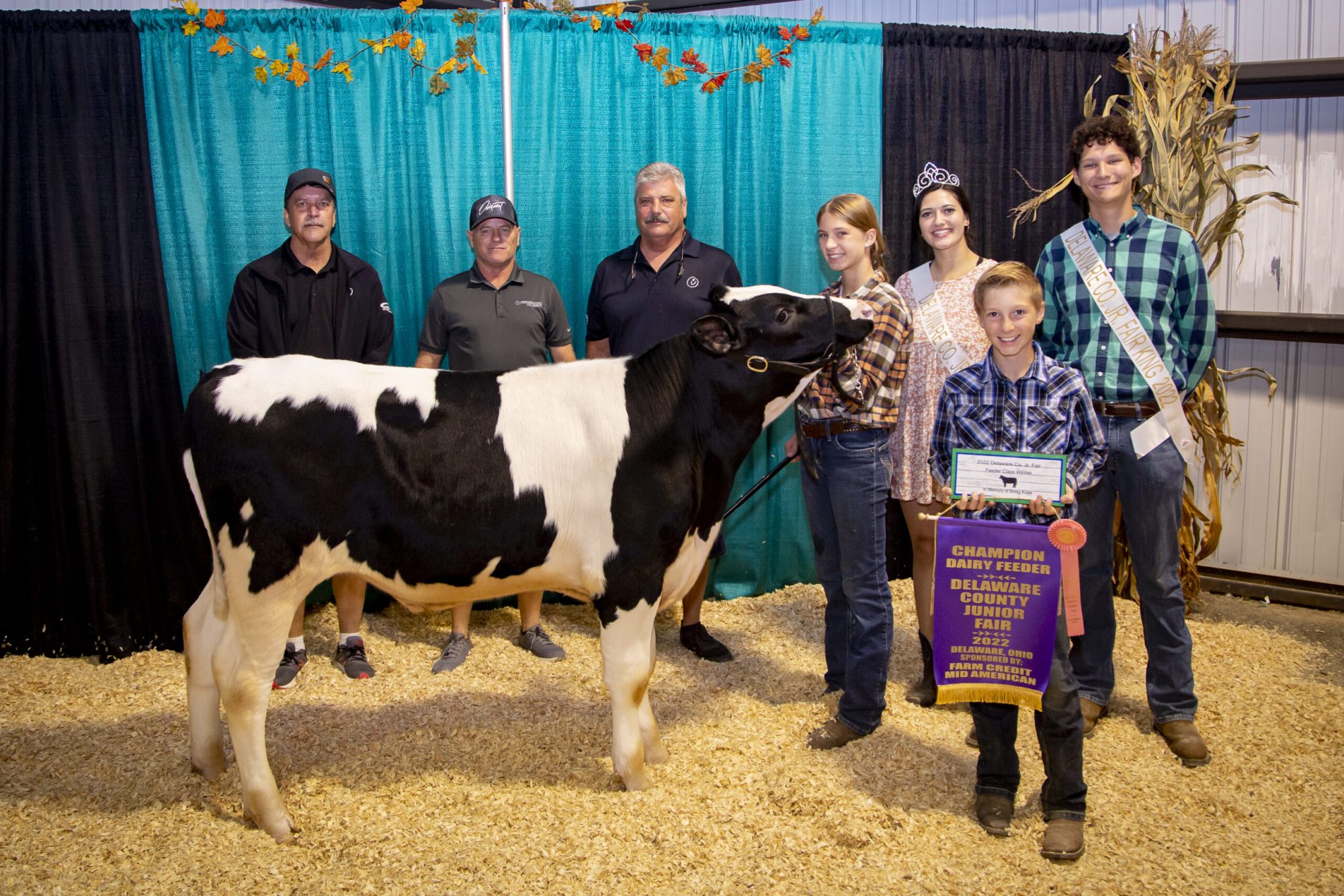 Delaware County Junior Fair Sale Hall of Fame
Having reached the landmark of 60 years of Junior Fair sales, it is appropriate to recognize those outstanding individuals, businesses, and organizations that have made these sales so successful. These supporters have inspired hundreds of 4-H and FFA members. These individuals, businesses, and organizations have donated their energy, time and financial resources through the decades. This award is given in recognition of their dedication to the Junior Fair Sales, commitment to youth, and community leadership.
The Junior Fair Sale Committee will recognize up to two individuals, businesses, or organizations each year with a recognition item to be presented to each awardee. Winners' names' will also be added to the Sale Hall of Fame plaque. The committee allows for one of the selections each year to be for recognition of the past and may be awarded posthumously. Anyone who is a resident of Delaware County may submit a recommendation for inclusion in the Junior Fair Sale Hall of Fame. Nominations will be kept on file for up to three years.
Nominations will be reviewed and selection made by the Junior Fair Sale Committee. The inductee(s) will be honored during the Delaware County Fair.
Nominations must be received by the Junior Fair Coordinator, 236 Pennsylvania Ave, Delaware, OH 43015 by June 30. Nomination packets should include the completed nomination form and at least one additional letter of support.
For additional information, contact the Fair Office at 740-362-3851.
Junior Fair Hall of Fame Nomination Form
A printable version of the Junior Fair Hall of Fame Nomination Form can be downloaded here.